Aero Ballistic Commander Zola (ZaZa the Calypso Queen) Reinhart
Do Not Disturb!


This poor girl is a rescue. Her original owner told us she'd been hit by a car when she was a kitten and her back broken and hip crushed. How she lost part of her tail we don't know, but the joint is broken where it connects to her spine. She was 12 years old when we met her and her owner had tossed her out and said, "If I don't feed her maybe she'll leave." GRRRRRRRR

She's had a good and loving home with us for three years now. She's been a treat, ahem, but petting her is like handling a chain saw with a faulty switch.
February 28, 2002
We have said farewell to our dear precious Zoe. We listened to a perfect bit of music, "The New World Symphony," to speed her on her way, to a New World of Love. On the morning February 28th, after Renato fed her, I asked him how she was and did she eat and he replied: "She's ready to go Sis, she's so tired now."
Later, I called the Vet Clinic and made a late appointment with Dr. O. to help Zoe on. I spent a lot of the day in her room with her. She would eat a little and give headbumpies, but then she would sigh and go back into her cozy box, with her own green blanket, sitting at the head of the bed. She didn't even want to sit in the window when the sun was shinning into her room.
I held the carrier in my lap on the trip, she played more head butts and chin rubs with my fingers that I kept in the carrier door's lattice work. She only talked once, sort of to say, "It's okay, I'm tired and ready, don't cry."
Renato stayed with her to the end, I just couldn't, but I gave her a final stroke and wishes for a speedy trip to The Bridge before I left the room, and told her to go to Tikky and little Anuk and to find Daddy and give him a headbump from me. I tried so hard to stay as well...
By 6:10 pm she was free of all pain, the pain she must - we know - had endured most of her life from that broken back and crushed hip. I hope during those few years we made up for the cruel abuses she had suffered so much of her life. We do know she came to trust us, and in her way, to love us. That little half of a tail she had, disconnected from her spine - her Propeller as Renato called it - sure must have been spinning as she leaped out of that weary body and climbed to God.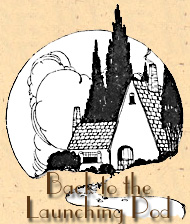 or