Sergeant Bob Don't - Piper
Sgt Bob Don't, relaxing during shore leave, summer 2002.
Sgt. Bob Don't in full Piper uniform, performing at the Kitty Renfest. To his right is the lovely Sgt. Da Mom Nibblets..
Frail he might be but damn, Bob Don't is still with us, one year later. It's October 9, 2004 and we can't believe this. He's thin, he's frail, he's cranky and pushy too VBG and he tries to eat out of my plate every meal. But he's still here. No extra treatments, we give him sub-Q fluids every other night and he still eats Flint River Cat Food, and pretty much what he wants. Once in a while his tummy does a tap dance, but we ply him with kitty keopectate (still) and one we go. As of December 03, Gypsy is CRF and has a thyroid problem so she gets fluids nightly. Between the two we found it more cost efficient to buy Lactated Ringers by the case. Never in my dreams did I think we'd be doing this!
As I update the site in October 5, '03, Bob Don't is failing and becoming more and more frail. Oh to keep them with us longer *tears*
Today is October 28. 2003 and Bob Don't is hanging in with us. In fact he's asleep in the other office chair. Med wise we are right back where we started in September - No Medications except for a daily dose of kitty keopectate, and we give him fluids daily. Actually he's feeling better and today he Didn't have those terrible runs. At least not yet VBG. About $500 later and we really are right back to the beginning. Hope and good wishes for Bob, maybe he's just get better on his own!
---
Bob is amazing. Today is July 19, 2004 and Bob Don't is still with us, very frail again, but after a long and successful rally. We started giving him 1/2 capsule slippery elm in his morning food, and feeding him chicken or beef I cooked either by roasting or in the crock pot. At Christmas we learned about Flint River Ranch Pet Foods and I ordered a bag. This combination stopped almost all the diarrhea and vomiting and Bob gained some weight back. We have never missed his nightly fluids either VBG.
The past two weeks though *sigh* he has changed. He hasn't been physically ill, I believe he is simply tired. We've been blessed with many many more months that we could have imagined back in the fall.
Join with us in celebrating a kitty life well lived. Sgt Bob Don't left Space Station Tik Tok and with Flowers In The Forest being piped at his side, traveled to The Rainbow Bridge on Tuesday, December 14, 2004.
Hail and Well Met brave cat.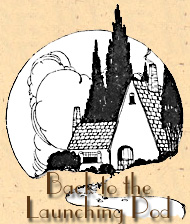 or
Please go to the Contact Page to email us!